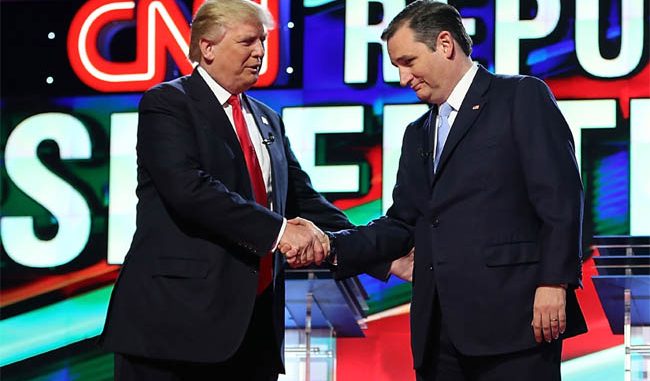 Texas Senator Ted Cruz refused to endorse Trump at the Republican convention, a man he called "utterly amoral" in the past. However, that was in the past. As of Friday, September 23, 2016, Cruz has reversed his anti-Trump position and endorsed the Republic nominee in his bid to be President of the United States in a statement posted to his Facebook account.
When they had run as opponents during the Republican primary, Cruz and Trump butted heads a number of times. Trump referred to Cruz as "Lyin' Ted". For his part, Cruz had renounced Trump as a 'sniveling coward' and that he would never support someone who had attacked his father or his wife. Cruz even refused to endorse Trump in his prime-time Republican National Convention speech in July.
Cruz exited the Cleveland stage that day to boos after encouraging them to vote with their conscience. The next day, Trump bit back, insinuating that Cruz's father was involved in the assassination of President John F. Kennedy, mentioning a photo and the National Enquirer.
On Friday, September 23, 2016, Ted Cruz endorsed Donald Trump in his bid to become the next president of the United States. Cruz spoke about the change of heart on his Facebook page, saying that after "many months" of careful consideration, prayer, and conscience-searching, he had decided that he will vote for "the Republican nominee, Donald Trump" on Election Day.
So, just what was it that swayed Ted Cruz to go from a no-way supporter to getting aboard the Trump train and endorsing him for president? The same thing that swayed many conflicted Republican voters: he's the Republican candidate, and he's up against Hillary Clinton.
Cruz stated that Hillary Clinton, the Democratic nominee, is "manifestly unfit" to be president of the United States. He said that the only thing standing in her way is Donald Trump. He also apparently was swayed by Trump's list of potential Supreme Court nominees, which includes Senator Mike Lee. Cruz said that Lee would make "an extraordinary justice" and that the nominees provided "a serious reason for voters […] to support Trump".
Cruz explained in his endorsement that he intended to keep his word about promising to support the Republican nominee in 2015. There was no mention of the attacks on his family by Trump and focused on his past pledge to support the Republican nominee as well as what a bad option Hillary would be.
Trump said this past July that he would not accept an endorsement from Ted Cruz. Friday, he accepted that same endorsement he said he would never take– and Cruz said he would never give.
Trump responded positively to Cruz's endorsement through a statement on his website the same day and told CNN he was greatly honored by the nomination from his "tough and brilliant" former opponent. This was a sudden change of tune, but maybe not that sudden. Cruz thanked Trump on Twitter earlier this week for endorsing his position on part of a government funding bill.
Cruz wrote on Facebook that this election is "unlike any other" in our nation's history and shared that like many other voters, he had 'struggled' to determine the correct course of action in this election. He alluded to his Cleveland urging of the crowd to vote with their conscience for the right Republican nominee– when it still could have been him. Now that it is Donald Trump and not Ted Cruz that is the official nominee, there's nothing to do but endorse him. As Ted Cruz said, he may have been anti-Trump in the past, but he's also team "#NeverHillary".