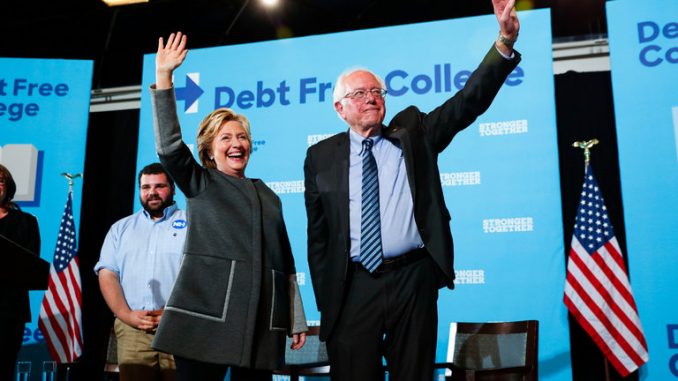 College students may be soon getting a boost when it comes to their college tuition if Hillary Clinton is elected.
Hillary and Bernie Sanders recently publicly unveiled a plan to help students go through college debt-free. The plan was announced at a Durham, New Hampshire campaign event on September 28th. This marked the second joint appearance made by the pair on the trail for the two former Democratic primary opponents who once seemed like they would never get along. However, the attacks and jabs that had been thrown back and forth in the primary election were gone. In its place, Sanders stood behind Clinton, respectfully addressing her as Secretary Clinton.
Sanders defeated Clinton early on in the primary in New Hampshire. Although Clinton won the Democratic nomination it is helpful to have Sanders with her in a state that he controlled. Sanders returned to help his former rival help win the election against Donald Trump. Senator Sanders and Hillary discussed Hillary Clinton's Debt-free college tuition plan with the crowd.
Debt-free College Tuition Plan Details
Public colleges and universities would be tuition free to attend for any student that comes from a family that makes under $125,000 a year. The plan will start by servicing students from households that make $85,000 or less. By 2021, Clinton would like the debt-free plan to service households making $125,000 or less. In addition, students that already have debt would be eligible to refinance loans at a lower interest rate.
Clinton said that paying for college "shouldn't be so hard" that it prevents students from getting an education. Sanders, for his part, said that the proposal is 'revolutionary' for the future of the country and has "wide-reaching implications", meaning that students won't be leaving college with a huge amount of student debt– debt that can take decades to pay off.
The plan would make public colleges free for up to 83% of students nationally.
It's a big change from the primary election, where Clinton was for debt-free college experiences, while Sanders desired no tuition for students at all.
There is a distinct difference between debt-free and tuition-free.
Around half the costs of college include room and board plus textbooks and materials. Clinton's plan is much more realistic than Sanders' original plan which was tuition-free college. This means that everything would be free – education, housing, textbooks, etc.
Clinton's debt-free plan would only cover education cost. Room and board would not be included.
The two politicians compromised in July and Sanders has been on board with endorsing Hillary ever since they forged their joint initiative, which embraced the spirit of Sanders' tuition-free drive for students.
The proposal may not only help young supporters if it goes through, but it may also serve as a big incentive for young people to vote for Hillary. The Clinton campaign has many young supporters– some even mainstream celebrities.
Either way, the plan is a push to make education more affordable, something both candidates can agree on.
Senator Sanders praised the proposal as a "very bold initiative" in a conference Wednesday in Washington. The original plan called for lower costs by the state and lenders to refinance loans and offer lower interest rates, while Sanders' plan had been for tuition-free college for all. The plan admittedly adheres to Clinton's vision slightly more than Sanders. Then again, it's her campaign.
Following up on that theme, Bernie Sanders promised the crowd that he would help to push any bill through the Senate under President Clinton.
Where previously he was a foe to defeat, Sanders has surprisingly come become one of Clinton's most steadfast ally and said he would work with her to make sure this particular legislation "is passed as quickly as we possibly can" as a member of the Health, Education Labor and Pensions Committee.
The policy announcement comes as Clinton is attempting to stay even with Trump and his campaign. While Clinton has endless amounts of volunteers and campaign donations at her disposal, much of that has been spent on advertisementing — something the Trump campaign has opted not to do. However, while the Trump campaign has been raking in tons of free publicity and coverage, some of it negative, this move seems like an attempt to get some positive spin.
Perhaps it just looks like a concerted effort to turn the page, just a day after FBI director James B. Comey criticized Clinton for her careless use of private emails and servers. The proposal would have the federal government providing tuition grants to states that can put up some money to match it. It's very similar to a proposal made by Clinton last year, except for that in her previous plan, Clinton expected families to make a 'realistic contribution' to tuition payments.
The new proposal has some praising it and some criticizing it.
Experts noted that details of the initiative were not that clear. They also wondered what would happen if some states declined to contribute money — a realistic concern.
They also were concerned about the impact on private schools with small endowments that compete for state tuition. Barnak Nassirian says that prices for tuition have gone up because states have been backing away from support.
Cooperation from the states will be a huge part of the plan's success — in fact, the plan depends on it.
In addition to resistance from states that may not want to pay the money, nor forced to pay under federal law, the plan will almost certainly face opposition from private schools that compete with public institutions for the money. Some say that the plan would limit student choice since the plan would put economic incentives in place for people to attend their in-state public colleges.
The plan is estimated to cost about $350 billion over the cost of a decade.
It would work by limiting deductions for high-income taxpayers and any additional cost would be covered by getting rid of tax loopholes used by private equity firms and hedge funds. Sanders had states previously that his plan was estimated to cost seventy billion, some covered by the government.
Clinton often speaks on the trail of plans for debt-free college education and is also calling for a 3-month moratorium on repayment of federal student loans, allowing borrowers to refinance loans or restructure high-interest debt. She is also promising to restore year-round Pell Grant funding to help students take summer courses. The plan would require students working 10 hours a week to help pay for college.
The campaign said that the initiative would initially cover students whose families make $85,000 a year or less. They would increase the threshold by ten grand a year until in 2021 it would go all the way up to $125,000.
The campaign is likely to put Hillary in a favorable light with many former Sanders for President supporters. Whether this will be ultimately enough to help Hillary Clinton and the students who vote for her or the plan will be rejected by unwilling states remains to be seen.